Recent Activity
We have been very busy throughout 2016 and 2017! Voluntary registrations in the Land Register of Scotland are becoming increasingly common, as public authorities aim to have their land registered by their 2019 deadline and the private sector by 2024.
A particular highlight in 2017 was completing voluntary registration of the Royal Highland Showground and land at Ingliston, Edinburgh, owned by the Royal Highland & Agricultural Society of Scotland. This was a large and complex job, with both the mapping and the legal titles examination taking a great deal of effort and painstaking attention to get right. Our 4 voluntary registration applications were submitted to Registers of Scotland in April 2017, and the completed titles (MID98515, MID183748, MID183750 & MID8441) issued by them in June. We were therefore very proud to attend the President's Lunch during the 2017 Royal Highland Show, during which Registers of Scotland announced the successful completion of registration. We were also pleased to see the brand new title plan for the Showground proudly displayed (we think it looks pretty good but it's even better at scale A0 i.e. viewed at its actual size!)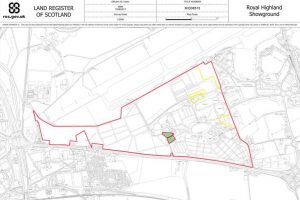 We hope the Society's taking the lead by registering their own land will help to encourage others to do so – there are definite benefits to be gained by having a Land Register title. For more on the Ingliston registration, see the Registers of Scotland blog on this:
Registers of Scotland – How We Registered the Royal Highland Showground
We are also very pleased to have completed the following voluntary registrations for clients:
Little Pinkerton Farm, Dunbar
Sandystones Farm, Ancrum
Legerwood Estate, Earlston
Under Langlee Farm, Jedburgh
Thwaite Farm, Ruthwell, Dumfries
9 crofting estates in the Highlands & islands
8 industrial estates in the Highlands & Islands
Currently (November 2017) we are preparing 15 voluntary registration applications for a major Scottish landowner, with more expected after that. Never a dull moment!
Robin Priestley
Whose Land Scotland